Audi Service Center
Welcome to 
Audi of America Service Center. 
Keep your Audi performing like an Audi
Quality service starts with our factory-trained Audi technicians who use the latest diagnostic equipment and Genuine Audi Parts to keep your vehicle in-tune. Learn more about your maintenance schedule, warranties, and owner's manual below. You'll also find the many ways we are here for you, including Roadside Assistance and remote service appointments.
Audi maintenance schedules and owner's literature
As an Audi owner, you deserve to know what it takes to help maintain your car's exceptionally engineered performance-and our maintenance tool was designed to do just that. Simply input your vehicle's VIN or Model Year, Model, and trim level for a convenient way to see the maintenance schedule and owner's literature for your car. You can also enter your mileage for more specific maintenance recommendations.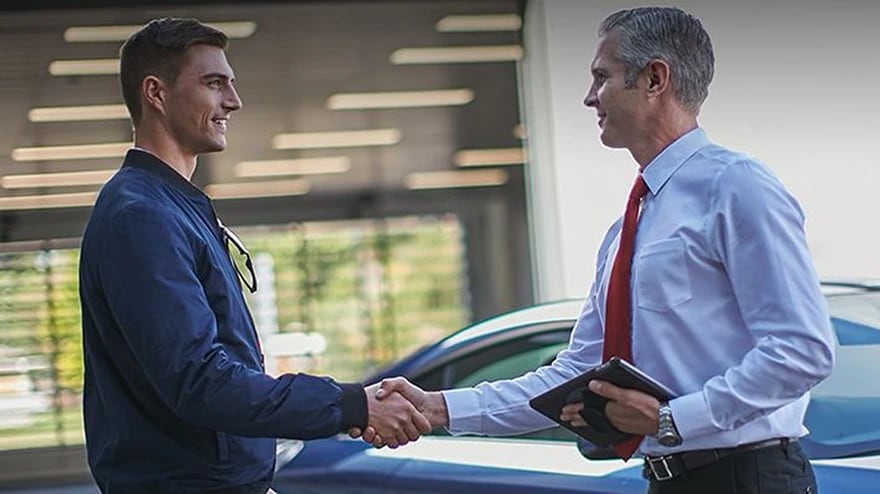 Service Maintenance for Your Audi
Regular maintenance of your vehicle comes with a host of benefits. You don't have to wait until your Audi breaks down before you start looking for a solution. The good thing about regular maintenance is that it helps pick up small issues early before they become worse and stall your vehicle. Our certified technicians in Burlingame specialize in handling different Audi models. You can bring your Audi car or SUV to our service center at Audi Burlingame for excellent and factory-trained service.
Common Maintenance Services at Our Service Center
Oil changes
It is important to regularly check the oil of your car to ensure your vehicle is running smoothly. The main purpose of oil is to lubricate the inner moving part of your vehicle. It is always believed that oil is the lifeblood of an engine. As time goes by, the oil becomes dirty and ineffective. That's why it needs to be changed regularly. You should check your owner's manual to find out the recommended service intervals for your Audi car's oil changes.
Tire Rotations
Your tires play a big role when it comes to how your vehicle operates. They're one of the biggest contributors to how easy it is for you to accelerate, turn and brake. When tires are worn out, not only will they have less grip, but they are also at risk of blowing out, either of which could cause a serious accident.
It is always a good idea to have your tires rotated whenever you get an oil change. This makes sure that the tires wear evenly on the streets of San Mateo, so you don't have to worry about one of them wearing down much faster than the rest. Additionally, you should have one of our professional technicians check your alignment to make sure your steering is straight and that the tires are rotating normally.
Audi Burlingame Tire Center
Battery Replacement
A dead or non-functional battery can leave you stranded outside San Francisco. You should be sure to get a battery inspection at least once a year. You might also want to have the voltage of your battery checked at your oil changes. If the voltage is rapidly dropping, then this is a sign that it's time to have your battery replaced.
Brakes
Your brakes are crucial for your safety. Most cars use disc brakes: ceramic pads that are pressed against a metal disc to slow the car to a stop. With time, the ceramic pad will wear out and need replacement. We can check the thickness of your brake pads when you bring your Audi in for a tire rotation. It's important to replace them as soon as they become worn out.
Air Filters
Your air filter is responsible for removing dust and debris from the air as it gets pumped through the engine or into the AC unit. As your vehicle continues to accumulate miles, the air filter will get filled with dirt and toxins and require replacement. It is highly recommended that you replace your air filter every 15,000 to 20,000 miles. However, if you're driving in dusty areas near Redwood City often, you may need to get these replaced more often.
Spark Plugs
Spark plugs may be small parts in your vehicle, but they play a big role in starting your Audi. Unfortunately, they wear out as time goes by. You can expect to need to replace them after about 60,000 to 75,000 miles.
AudiCare
To help maintain the performance of your Audi, we recommend maintenance service every 10,000 miles or 12 months, whichever occurs first. Audi Care prepaid scheduled maintenance packages are the ultimate in quality and convenience.
More Information
Audi Genuine Accessories
From the added cargo versatility of roof racks to car covers helping protect your investment, there's an array of Audi Genuine Accessories that can help you add both style and utility to your Audi. Find your Audi model from the list below to see the available accessories tailored to fit your Audi and next adventure.
In Need of Audi Genuine Parts & Accessories?
Here at 
Audi of America
, it is our mission to be the best Service and Parts Center we can be. Our Audi Certified Service Technicians are standing by to help you with all of your maintenance and repair needs.
A factory fit, every time.
Help maintain the integrity of your Audi when you visit our dealership for service and repairs. We use Audi Genuine Parts that are designed for the factory specifications of your model. They offer quality, performance and 12-month/12,000-mile warranty.
The Parts Department at 
Audi of America 
maintains a comprehensive inventory of high quality genuine OEM parts. Our highly knowledgeable staff is here to answer your parts inquiries. Should we not carry a part for which you're searching, we can always order it for you and receive it within a timely manner.
View Audi Service Specials