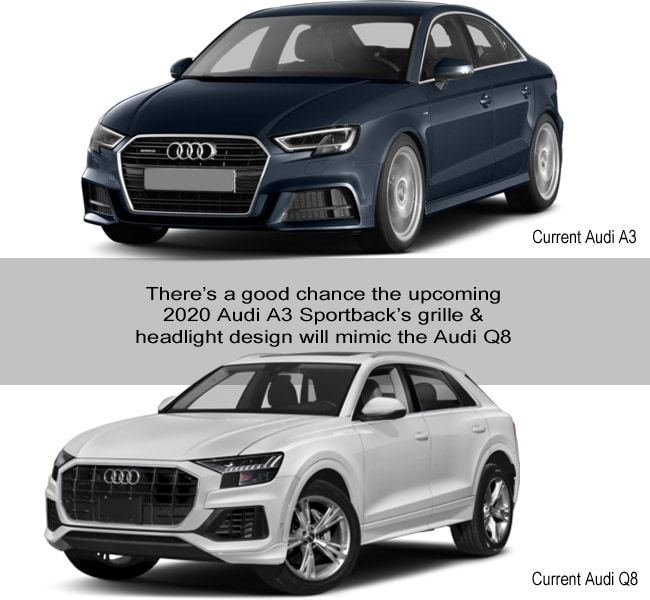 The Audi A3 Sportback is getting refreshed and is set to arrive during 2020. That's right, it's not time to start holding your breath for it to be at our Burlingame dealership, but we do have a bit of news about the upcoming look.
Auto journalists spied the upcoming Audi A3 Sportback out in the wild. However, it was covered in camouflage wrapping, so we didn't get a full look at its majesty. They were kind enough to leave the grille and headlights unwrapped, and we can see the changes they've made there. The headlights have a sharper and more menacing design, and the grille looks like it came off the all-new Audi Q8 that's already receiving a ton of positive feedback. Get ready to drive around San Francisco and Palo Alto in updated style!

The rest of the outside shouldn't be changing so much, though we do know that it'll be a little longer and a little wider than its predecessor. Because the exterior updates seem to be minor, we have a good feeling the graphic design renders that are floating around will be fairly accurate to the actual 2020 arrival. We suggest you Google them and then imagine the vehicle sitting pretty inside your San Mateo garage.
The inside of the upcoming 2020 Audi A3 Sportback is supposed to have more updates. One unwrapped interior change journalists were able to catch was the new touchscreen placement on the upcoming Audi S3. While we expect there to be subtle changes between the Sportback and the S series option, we don't imagine the touchscreen layout being completely different. We also cannot wait for the official reveal and to see how many touch-only features the infotainment and dash layout have or if they'll still be a lot of physical buttons and dials.
If waiting until 2020 and possibly early 2021 is too long, we understand and encourage you to come check out our current Audi A3 sedan and cabriolet models and soon-to-be-arriving Audi A3 E-tron.